Dates Calculator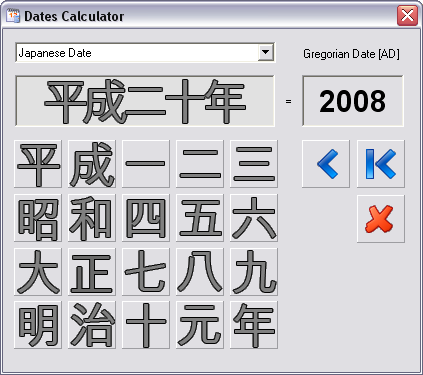 The "Dates Calculator" application is a freeware tool and comes with Collection Studio Installation Package or as stand alone software. It provides conversion from various date formats into Gregorian date format. This Collection Studio Feature is very useful for coins collectors and banknotes collectors.
Supported date formats
Right now we are working on extension for Japanese dates in order to support Arabic numbers inside the date. This extension is discussed on our "Forums" section, thread "Dates Calculator".
Download
Latest version is DatesCalculator 3.0.3, December 17, 2008:

ArabCalc.exe (97 KB)

ArabCalc.zip (82 KB)

DatesCalculator is freeware application. But you can support its further development with donation.

Thank you.
Dates Calculator change log
Dates Calculator change log
3.0.3
17/Dec/2008
Fixed hieroglyph "Sei" image for Japanese calculator.
3.0.2
2/Aug/2008
Fix of XML parser in plugin mode;
Upgraded 'Mem' letter of Hebrew alphabet;
Temporary removed tooltips in standalone executable.
3.0.1
29/Feb/2008
Glyphs updates
3.0.0
18/Jan/2008
Using CS Plugin Architecture
Fixed about dialog crash on some systems
Images and glyphs were revised
2.1.0
27/Nov/2007
Nepali Dates - Bikram Samvat Era [VS]
2.0.0
12/Feb/2007
Larger icons for buttons
All icon glyphs are revised and recreated
Support for Bengali (Bangladesh) numerics conversion
Fix for Hebrew and Thai dates for BC era
Support for Mongolian numerics conversion
1.4.0
04/Dec/2006
Support for Thai Buddhist Calendar.
Program Icon Revised.
1.3.0
07/Oct/2006
Support for Moslem Lunar Calendar (Hejira).
Renamed labels for world used calendars shortcuts.
1.2.0
19/Aug/2006
Support for apostrophe for Hebrew digits to avoid misspell with "Jud".
Tooltips for language specific numbers buttons.
1.1.0
28/May/2006
Fixed redraw of buttons, no artifacts.
Japanese dates calculator.
Tooltips for all command buttons.
1.0.0
30/Jan/2006
Support of multi dates.
Hebrew dates calculator.
Improved glyphs of Arabic numbers.
Fixed problems with buttons transparency.
Project renamed to "Dates Calculator".
0.0.0
12/Jan/2006
Basic version of "Arabic Dates Calculator" released.
System Requirements
Windows 98/ME/2000/XP/2003/Vista
License
Frequently Asked Questions
Is Dates Calculator free?
Yes, Dates Calculator is absolutely free! Dates Calculator is freeware. You can use it for free, no registration is required, and there are NO limitations whatsoever.
Does Dates Calculator come with a uninstaller? Do I need to uninstall the old copy before I install a new version?
No, Dates Calculator comes without installer, because it is just single executable file.
I have problems in using Dates Calculator - to whom should I write?
If you are having problem in using Dates Calculator, please post your problem in the Dates Calculator Forum, Fans and Moderators in the forum will help you.