The Royal Mint of the United Kingdom produced in error about 200,000 coins without a date. They are the first undated British coins to enter circulation for more than 330 years.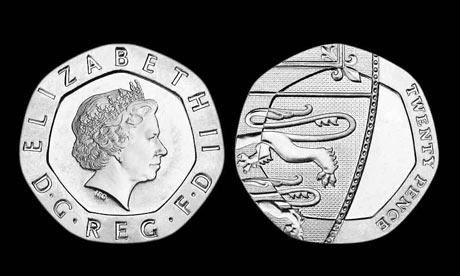 The 20p coin minted in error with no date. Photograph: Watershed/PA
The date on the new 20 pence was moved from the 'tails' to the 'heads' side when all country's coins from the 1p through to the £1 were redesigned last year. So, the coins without a date were created by accidentally pairing up the new 'tails' side with the old 'heads' - meaning no date appeared at all.
The Royal Mint confirmed that "a small number of new-design 20p coins have been incorrectly struck using the obverse from the previous design, resulting in these coins having no date", but added they were legal tender and could be used as normal.
The error has caused a great deal of excitement among coin collectors because the Royal Mint, in Llantrisant, South Wales, is normally so careful about the manufacture and release of coins into circulation. No one knows how much the undated 20p is worth. However, The London Mint Office, which is a private company with no connection to the Royal Mint, is offering £50 a time to anyone who has one.
Notes
In 1983, the Royal Mint made an error with the 2p piece and struck some with the wording 'new pence' rather than 'two pence'. The 1983 2p coin is currently worth a few hundred pounds, however its value was enhanced because only a very few of these reached the public.
Coin expert at the London Mint Office, Nick Hart, said: "Mistakes like this not only fascinate people but also have considerable value-increase significance. We believe this extremely rare error will certainly get the public looking at the coins in their pockets again and noticing the excellent new designs launched by the Royal Mint on our coinage."
20p coin facts from the London Mint Office
- The 20p piece was first struck in 1982;
- The Tudor Rose design was used continuously on the 20p until 2008;
- There have been two other coins with errors struck in the decimal era since 1971, but they did not enter circulation;
- The first British coin issued with a date in numerals was the English 1551 silver crown of King Edward VI;
- From 1662 onwards all coins have carried the date of issue;
- In the mid-19th century, Queen Victoria issued a series of silver florins that were dated in Roman numerals.
Posted by
serge
,

Giugno 30, 2009. Post has
4 comments
.
coin
penny
Royal Mint
undated