Estonia has become the 17th member of the eurozone - the first ex-Soviet state to adopt the EU single currency. The changeover from the kroon to the euro started at midnight 1st January 2011 in the small Baltic nation of 1.3m people.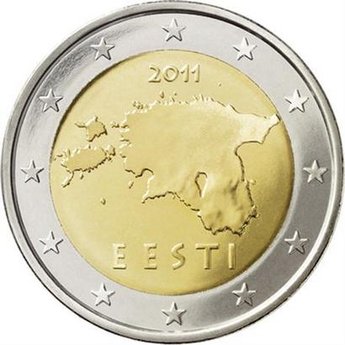 Despite market pressure on the eurozone and the Greek and Irish bail-outs this year, polls suggested most Estonians wanted the euro. Prime Minister Andrus Ansip marked the event by withdrawing euros from a cashpoint: "It is a small step for the eurozone and a big step for Estonia," he said, holding the euro notes.
For many Estonians, 20 years after breaking away from the Soviet Union, the euro is proof that they have fully arrived in the West. Estonia joined the EU in 2004 - one of eight former Communist countries that did so, including its Baltic neighbours Latvia and Lithuania. Two other ex-Communist countries - Slovenia and Slovakia - are already in the eurozone.
The appearance of the coins was decided by a public vote within Estonia. The winning design by Lembit Löhmus was chosen from hundreds of entries submitted. All the Euro coins feature the same theme incorporating an image of the map of Estonia with the word EESTI (Estonia) beneath. Also on the national side of Estonian euro coins is the year of minting in addition to the 12 stars of the European Union.
Estonia is now the eighth country for which the Mint of Finland produces euro coins. They have been producing Estonian collector coins since 2004. The Mint's Managing Director Paul Gustafsson commented, "No other mint in the world produces euro coins for as many different countries as the Mint of Finland."
Estonia re-introduced their national currency the Kroon in 1992 after the re-establishment of Independence from the Soviet Union in 1991. Banknotes introduced were the 1, 2, 5, 10, 25, 100 and 500 Krooni, with a 50 Krooni banknote introduced in 1994. Coins of 5, 10, 20 and 50 senti along with 1 and 5 krooni coins were introduced in stages between 1992 and 2001. The kroon was established with a permanent pegged rate of 8 Krooni equaling one Deutsche Mark. When the German mark was pegged to the EURO in 1999, Estonia gained an automatic exchange rate of 15.64 Krooni.
Posted by
andrew
,

5 stycznia 2011. Post has
0 comments
.
coins
Estonia
EU
euro
Finland
kroon
mint
Soviet Union