George V (George Frederick Ernest Albert; 3 June 1865 – 20 January 1936) was King of the United Kingdom and the British Dominions, and Emperor of India, from 1910 through World War I (1914–1918) until his death in 1936.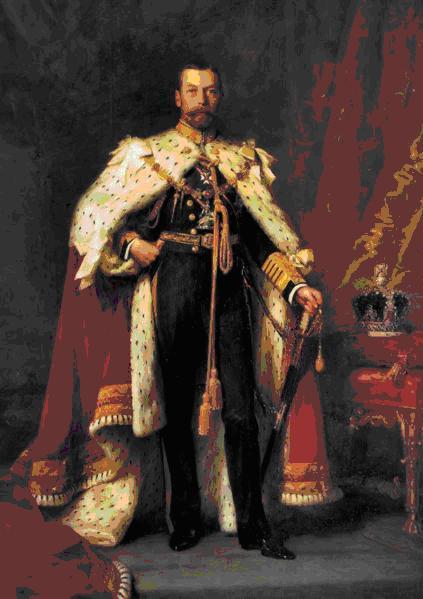 King George V. Portrait
George V who ruled the British Empire more than 25 years, made philately by one of the most popular hobbies in the Great Britain. He took a great interest in a collecting of stamps when he was only 13 years old. He did his first purchases at Pembertone and Charles Phillips. By 1890 George had already have enough serious collection. George's father , Edward, helped the son with a rare material for the collection which usual philatelists had no possibility to get. George was the first who received angular quartblocks of all stamps which were issuing in British Empire. Also his father bought the collection of stamps of his brother Prince Alfred, Duke of Edinburgh and gave it to his son.
To George's wedding (1893), his friends from the Royal Philatelic Society presented as a gift an album containing about 1500 marks of British Empire and Russia. In 1893 George became a member of the Royal Philatelic Society, in 1896 he was selected the President of the Society.
In 1904 he succeeded at an auction in acquiring not cancelled copy of the famous 2d Mauritius with inscription "Post Office", may be one of the rarest stamps in the world on which he was very proud. Later he entirely got many thematic collections of the well-known philatelists of time. Some of these collections were the best for that moment.

Stamp 2d Mauritus
After crowning, George V disposed to send to him on the statement the design of all stamps of Empire, and start collecting essays, proofs and the original stamp drawings. So he became a real expert in stamp collecting, especially of Commonwealth stamps. During World War I - when he was already King - he tried to seek relaxation with his stamps in spending several afternoons a week with his collection. His British Commonwealth collection, the most richest ever, has been accommodated in the red albums.
By estimations of experts for 1940 the cost of the Royal collection made nearby 2,500,000 dollars presently according to the keeper of a collection Michael Sefi its cost comes nearer to 200,000,000 euros though precisely this figure is not obviously possible to define. The collection contains a lot of unique material for which the conception of market cost is not applicable. Now the the Royal collection consists of 350 albums which are stored in a special room for marks in the Buckingham palace.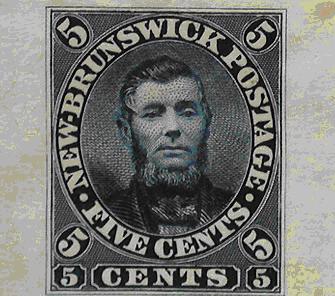 Die proof for a five-cent New Brunswick stamp on thin, wove paper. Instead of bearing an image of Queen Victoria, the five-cent stamps bore an image of the New Brunswick Postmaster-General Charles Connell. How Connell's image got on the stamp is a mystery. Only around 50-60 'Connell' stamps survive today
After George's V death his son, George VI, has continued collection replenishment. He chose for collecting stamps from his own period of reign. He got all the issues of all the colonies, dominions and protectorates of the British Commonwealth. These stamps, drawings, proofs etc. are housed in the blue albums.The tradition of stamp collecting was proceeded by George V granddaughter Her Majesty the Queen. Her stamps are being collected in the green albums. Although the queen herself is not an expert as her grandfather and father were, she has nevertheless a real personal interest in her own collection. She has an eye for detail and makes proposals now and then for amendments in designs of new stamps.
All stamps collected by George V, his son and granddaughter are situated in The Royal Philatelic Collection. The Royal Philatelic Collection may well be the world's finest and most comprehensive collection of postage stamps of Great Britain. The collection is particularly strong in stamps from the very beginnings of the modern British postal system.
Posted by
serge
,

8 października 2009. Post has
0 comments
.
albums
British
collection
collector
George V
hobby
king
stamp