Creating new collection
It is very easy to create your own collection type - custom collection in CollectionStudio. Follow instructions below step-by-step:
1. Creation of the collection
Open CollectionStudio; Press "New collection" button in toolbar or in main menu. In the opened dialog select any collectible configuration in the list. Each configuration differs only by included fields. You can select "without fields" and specify your own fields later: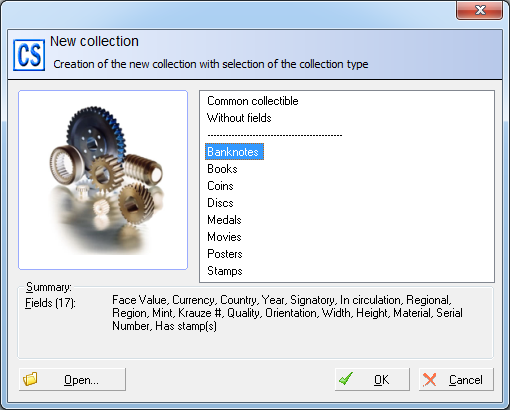 Creation of the custom collection: Dialog New Collection.
Press OK button.
2. Specifying collection options
Automatically "Options" window will be opened where you can setup all fields for custom collectible. Later you can open "Options" window for your custom collection in any time.
3. Specifying collectible fields
On the "Fields" tab page (see picture below) you can add unlimited number of fields for your collectible with specific type. Each type has its own behaviour in program. For example, for "Country" type you can have additional table "Countries" with pre-build list of countries. Also CS has different statistics views for each field type.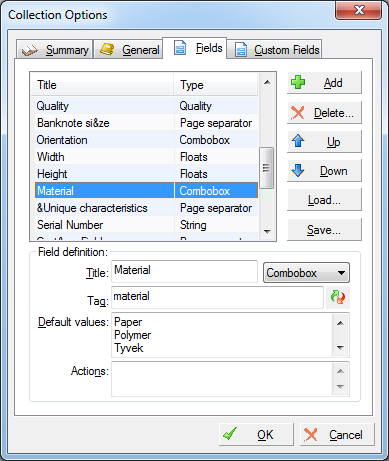 Document options: Fields setup.
Press OK button.
4. Specifying name of the file and location
5. Adding new collectibles
In the main list you can see additional columns with your fields where you can list all your collectibles.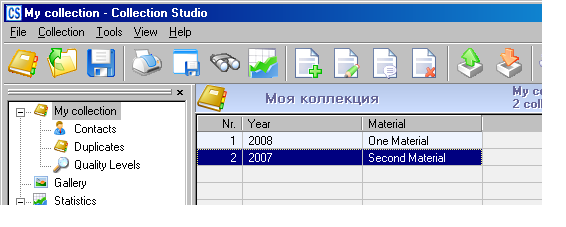 List with custom fields.
In the "Edit" dialog you can view and change value for your custom fields.
6. Saving your collection