Currency Characteristics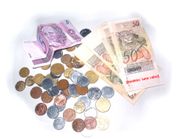 A currency is the money in circulation in any country; often, specifically, paper money and coins. It is in a continual passing from hand to hand, as of a medium of exchange.
Currencies can be classified as either floating currencies or fixed currencies based on their exchange rate regime. In common usage, currency sometimes refers to only paper money, as in "coins and currency", but this is misleading. Coins and paper money are both forms of currency.
Supported fields
The following characteristics of currencies are available in the Collection Studio:
Currency name
Origin of name - origin of world currency name
Links - unlimited number of web links;
Images - unlimited number of images, photos or scans.
Comments - notes and comments about given currency; See, Comments for more details about work comments.

Note: Additionally, you can log 5 independent characteristics for all currency's entries. To setup titles for them, open "Options" dialog.
See also
All Item Types - read about registered types of item in Collection Studio;
Collectible Types - read all about registered fields for each collectible type in CS.