Collection Studio Document Options: Remote web account
"Remote Database (catalogue)" functionality was introduced in CS v.3.59 and not jet finished.

Your opinion about this functionality is very important for us!

Please, write your suggestions or comments using "Contact" form or on our Forums.

Thank you in advance. Your CS Team.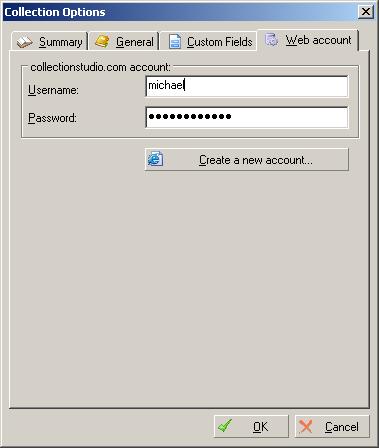 Screenshot of the "Document Options" window with opened "Remote Web Account" tab page.
Remote web account options
Web account
Username
Here you can enter the user name.
Password
Here you can enter the password for the collectionstudio.com site using user name specified in the "Username" field.
Buttons
Create a new account
Open http://www.collectionstudio.com/users/join/ web page in order to register a new web account on the server. Registration is FREE.
Web account options are used in order to create and manage your collections online using collectionstudio.com web site. To upload your collection on the web site you can use "Synchronize" command from the main menu.
See also