Britain axes 500 euro note over organized crime fears. Such is its popularity among criminals, the 500 euro note has earned itself a nickname - the Bin Laden. It is so called because you know it's out there, you know what it looks like, it moves around a lot but no-one ever sees it. But the note's days as a favorite for organized crime gangs, terrorists and money launderers may be numbered after it was withdrawn from circulation in Britain.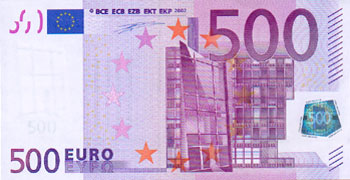 The Serious Organised Crime Agency (Soca) said there there was 'no credible legitimate use' for the notes - which are worth £426 each. UK wholesalers agreed to stop selling the distinctive pink and purple note last month after Soca investigators found nine out of ten were used for illegal activities.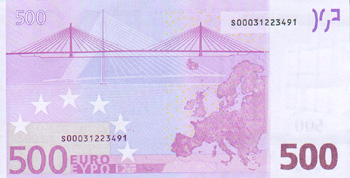 The move is likely to heap pressure on the European Central Bank to withdraw the note from circulation entirely. It remains legal tender in the UK and there are fears British criminals will now simply source their 500 euro notes on the continent, or turn to the smaller value 200 euro note which is worth £170.
Before the ban came into force, Soca found one backstreet money supplier which imported more than £4million worth of the notes in a single year - more than the number used by major high street banks.
Big money: the world's largest denominations
Euro - 500 note, Value in Pounds £426
US $ 100 note £67.19
Chinese Yuan 100 note = £9.83
Australian Dollar 100 note = £60.20
Canadian Dollar 100 note = £65.99
South African Rand 200 note = £17.95
Swiss Franc 1,000 note = £609.86
Singapore Dollar 1,000 note = £487.18
Russian Ruble 5,000 note = £112.31
Indian Rupee 1,000 note = £14.94
Posted by
andrew
,

13 Mai 2010. Post has
1 comments
.
banknote
euro
United Kingdom