Coins Collection in CollectionStudio
It is very easy to track any coins collection using our Collection Studio program. It was designed first to track coins and banknotes collections, but right now it supports additional collectibles types. On this page you will see how it easy and convenient to collect coins with CollectionStudio software.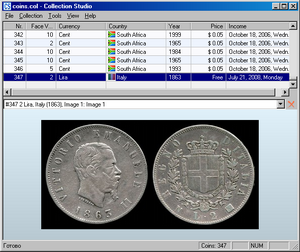 Main list of coins in the CS with selected Italy 2 Liras coin, 1863.
Add new coins into collection
You can add unlimited number of coins into coins collection in CollectionStudio. There are two ways to add coins:
Manual Add

To add a new coin entry, click "Add new coin" button on the main toolbar or select "Add new coin" menu-item in main menu.


Adding new coin entry in CollectionStudio. "New coin" dialog is opened.

When editing coins entry you can use Dates Calculator tool to acquire year of the coin which is minted on the coin face.

All information about coin is grouped by sections, each of them is placed on unique tab page within "Edit" dialog. You can hide particular tab pages if you don't want to track some information about your coins making usage of this dialog more convenient.

On the "Coin info" tab page you can describe your coin using following fields: coin dimension, rotation of the revers, type of the herd, material and etc.

Import

Using Import tool you can add several coins into collection simple with 2 mouse clicks.
View coins entries
Once you have added coins into collection, you can see entries in several ways:
Using Main List

You can see the whole your collection in the list with different selected columns. Your choice is automatically loaded / saved during switching different views in CS.


Coins List: Selection of the column to view.

Using "Edit" dialog

Using "View using" tool

Using thematic list
Collected statistics
There are a lot of statistics views in CollectionStudio. The statistics view can be accessed from the Collection Tree panel. It summarizes all general statistics information about your collection.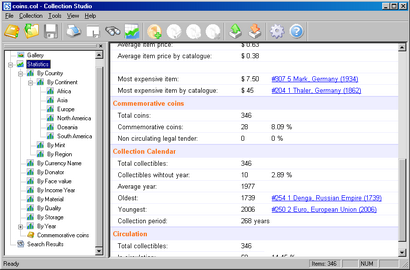 Statistics section in CS: general information about opened coins collection.
Only in CollectionStudio you can see colored maps of all continents with highlighted countries from which you have acquired coins.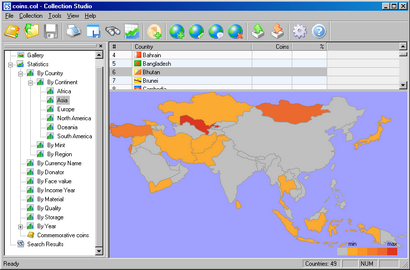 Statistics section in CS: Asia by country.
Custom fields for coins
Coins entry supports more than 30 standard fields. But additionally you can track up to 5 characteristics of your coins using custom fields.
---
Download free trial (4.6 MB)
Purchase full version ($35)