Tool: Synchronize
"Remote Database (catalogue)" functionality was introduced in CS v.3.59 and not jet finished.

Your opinion about this functionality is very important for us!

Please, write your suggestions or comments using "Contact" form or on our Forums.

Thank you in advance. Your CS Team.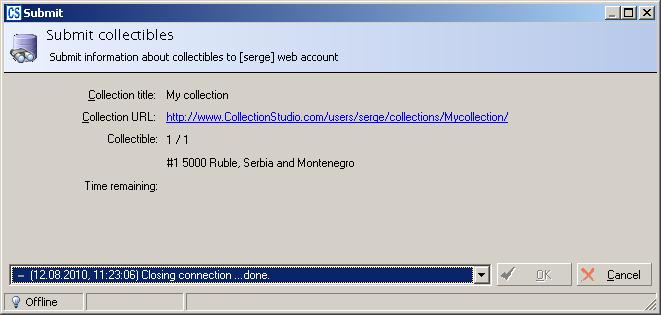 This dialog shows you how process of synchronization is going on. You see detailed log in the list.
Currently the synchronize process works only in one way: CollectionStudio application -> collectionstudio.com web site. During this process we submit all fields except private ones, such as donator, price, buy comments etc.
In our plans:
Allow modification online;
Retrieve modified data;
Support images, links, private fields and other data types that needs special processing on site;
Creation, deletion of collectibles online;
Comfortable work with online collection using mobile devices.
See also