Library

Banknote

Grading of World Paper Money

Hell bank notes

Paper money collecting as a hobby

Polymer banknotes and other non paper bills

Used banknotes
Paper money collecting as a hobby
Banknote collecting is a rapidly growing area of numismatics. Although generally not as widespread as coin and stamp collecting, the hobby is expanding. Prior to the 1990s, currency collecting was a relatively small adjunct to coin collecting, but the practice of currency auctions, combined with larger public awareness of paper money have caused a boom in interest and values of rare banknotes.
In the 1950s, Robert Friedberg published the landmark book Paper Money of the United States. Friedberg devised an organizing number system of all types of U.S. banknotes; the system is widely accepted among collectors and dealers to this day, and the volume has been regularly updated.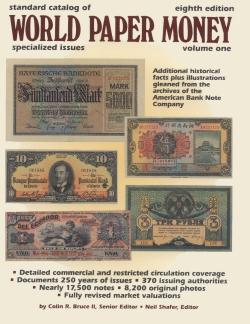 Another pioneer of cataloging banknotes was Albert Pick, a German (born 15 May 1922 in Cologne) who published a number of catalogs of European paper money, and, in 1974, the first Standard Catalog of World Paper Money. His collection of over 180000 banknotes was eventually housed at the Bavarian Mortgages and Exchange Bank (Bayerischen Hypotheken- und Wechselbank, now HypoVereinsbank). This catalog underwent several revisions, ending up as three volumes. Volume I covers Specialized Issues, including private banknotes and rarities. Volume II covers General issues from all over the world, dated 1368 through 1960. Volume III covers modern issues dated 1960 to date. Each of the volumes is updated regularly, with Volume III now updated every year, Volumes I and II every 3 or so years. While Pick no longer edits the catalogs (the honor has passed to George S. Cuhaj), the catalogs are still commonly referred to as 'Pick Catalogs' and dealers and collectors alike refer to banknotes by their 'Pick number'. Current issues of the three volumes include:
Standard Catalog of World Paper Money: Specialized Issues (10th Ed. Vol. 1) by George S. Cuhaj. Paperback - 1200 pages. (January 2006).
Standard Catalog of World Paper Money: General Issues to 1368-1960 (11th Ed. Vol. 2) by Neil Shafer (Editor), George C. Cuhaj (Editor). (November 2006).
Standard Catalog of World Paper Money: Modern Issues, 1961-present (12th Ed. Vol. 3) by George S. Cuhaj. (May 2006).
For years, the mode of collecting banknotes was through a handful of mail order dealers who issued price lists and catalogs. In the early 1990s, it became more common for rare notes to be sold at various coin and currency shows via auction. The illustrated catalogs and "event nature" of the auction practice seemed to fuel a sharp rise in overall awareness of paper money in the numismatic community. Entire advanced collections are often sold at one time, and to this day single auctions can generate well in excess of $1 million dollars in gross sales. Today, eBay has surpassed auctions in terms of highest volume of sales of banknotes. However, as of 2005, rare banknotes still sell for much less than comparable rare coins. There is wide consensus in the paper money collecting arena that this disparity is diminishing as paper money prices continue to rise at a rapid rate.
There are many different organisations and societies around the world for the hobby. Among them are:
International Banknote Society (IBNS) - It was formed in 1961 as a non-profit organization. The IBNS is organized for educational purposes and in furtherance of such purpose, its objectives are to promote, stimulate, and advance the study and knowledge of world wide banknotes and paper currencies and all matters related thereto along educational, scientific and historical lines. Currently the IBNS has approximately 1,700 members in over 90 countries. Members enjoy a number of benefits: a quarterly printed journal containing information on new issues and learned studies on paper money, a membership directory with contacts and dealers to further their collections, professional assistance in the unpleasant event of controversy between collectors, and many other useful tools.
Latin American Paper Money Society (LANSA) - Collectors of Latin American Banknotes meet on-line to share their information, notes, and experiences.