To continue our subject about "what we can do more with paper money and coins", we can say: banknotes are cheap and effective advertising area.
In times of financial crisis all people want to save money, including big companies such as Volkswagen AG. They had to announce that Volkswagen offers the perfect car: Volkswagen BlueMotion vehicles need little fuel for little money. How did they this? They just stamped a route on Euro banknotes. It showed how far you'll drive with a BlueMotion for the Banknote's value. 5,000 modified banknotes were put to circulation by daily money transfers of Volkswagen dealers and Volkswagen Service shops.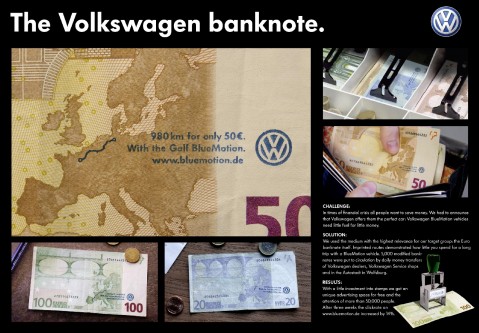 click to enlarge the poster
To visualize how far for how less you get they used the medium with the highest relevance for their target group: The Euro banknote itself. With a smart trick they turned it into a unique advertising space for free. With a little investment into stamps we got the attention of more than 50,000 people. After three weeks the click rate on www.bluemotion.de increased by 14%.