August 3
2010
The shape of the 10 Syrian pound coin has been found to so resemble the 20 Norwegian krone coin that it can fool vending machines, coins-to-cash machines, arcade machines, and any other coin-operated, automated service machine in the country. While hardly similar to the naked eye, machines are unable to tell the coins apart due to an almost identical weight and size: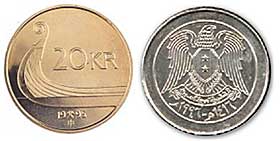 Ten Syrian pounds converts to ~1 Norwegian kroner, or about 0.20 United States dollar. 20 NOK, on the other hand, converts to 3.70 USD, almost ~18 times the value of the Syrian coin. While not easy to find in Norway, the Syrian coins are still used in automated machines there with such frequency that the Norwegian postal service decided to close many of their coins-to-cash machines on February 18, 2006, with plans to develop a system able to differentiate between the two coins.
By the way, in the summer of 2005, one Norwegian man was sentenced to 30 days, suspended, for having used Syrian coins in arcade machines in the municipality of Bærum.