June 17
2009
A dollar sure isn't worth much these days... until you cut it up into bits and and get out the glue. Brooklyn artist Mark Wagner, co-founder and president of The Booklyn Artists Alliance and x-acto master, makes the most of his money. Using countless fragments of actual currency, Mark Wagner creates collages that speak to the cultural, social, political and symbolic roles that money plays in our society. Working exclusively with the monochrome of the U.S Dollar, Wagner has proved that the single dollar bill is a truly ripe material; intaglio printed on sturdy linen stock, covered in decorative filigree and steeped in symbolism and concept. With blade and glue in hand, Wagner transforms this icon of American capitalism into representational images whose symbolic force asks us to question our understanding of money, its cultural significance and relationship to art. Reproducing the ornate visual effects of tapestries, paintings, engravings, mosaics and computer generated images, Wagner investigates a broad range of subjects, from the story of the founding fathers, to art historical icons, mythological tales and the language of architecture.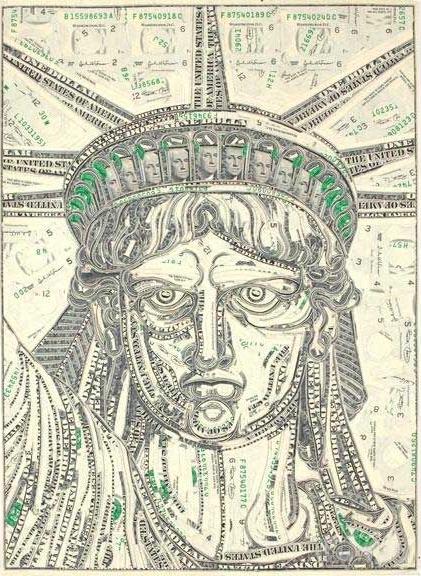 Critic Peter Spagnuoulo writes in his catalogue essay, "Wagner's skill is so self evident, one is sure that he could be working with any paper bits, from candy wrappers to bus tickets, and still make us see anew… Wagner is both the wild-eyed anarchist in the temple of capital, and the worshipful mystic who shows us the meaning we took for granted, hidden in plain sight."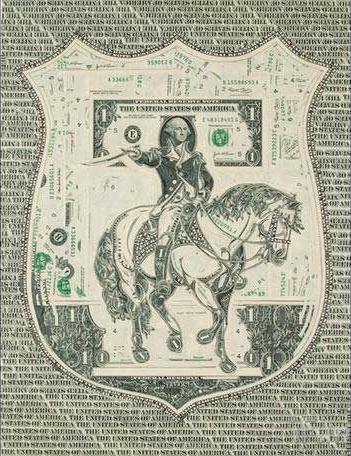 The transmutation of the banknote value in works such as Took for Granted recall not only a ubiquitous art historical reference (Grant Wood's American Gothic of 1930), but also ask the viewer to analyze notions of new Americana and the arduous struggle of labor through its use of legal tender. The same kind of meticulous production and graphic presentation is realized in a life-size rendering of a mermaid in Full Fathom Five. Measuring 80 inches high, this siren of Greek mythology is enveloped by heavy textural masses of leafy greens, found on the dollar bill, and appears to lure a drowning George Washington towards her. Her sensuous beauty seems to exude rays of slanting light – the moral of the tale seemingly summarized by the fish-hook which is bated with money. This mock-epic of George Washington as Everyman continues to appear in other collages in the exhibition. In Tip of America, our founding father seemingly bids us good riddance as he signals to a passing ship while a lighthouse looms on the rocky bluff beyond.
The most successful of these, like Demon Dollar, $1,000, throw a fresh light on the graphical ritualism of the state, but without being smug about it: