March 17
2010
Gaius Julius Caesar (Roman military and political leader who played a critical role in the transformation of the Roman Republic into the Roman Empire) was the first to print his own bust on a Roman minted coin: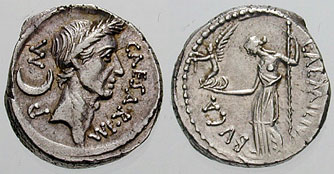 BTW. The Roman currency during most of the Roman Republic and the western half of the Roman Empire consisted of coins including the aureus (gold), the denarius (silver), the sestertius (bronze), the dupondius (bronze), and the as (copper). These were used from the middle of the third century BC until the middle of the third century A.D.
Posted by
serge
,

March 17, 2010. Post has
0 comments
.
coin
Julius Caesar
Rome