79-year-old Phillip Waren has spent the last 62 years of his life creating incredible ship models out of old matchsticks and the wooden boxes they used to be packed in. He started building his amazing matchstick models when he was just 17, using the things around him, and since matchsticks were much more common back then, finding large supplies was a very easy task.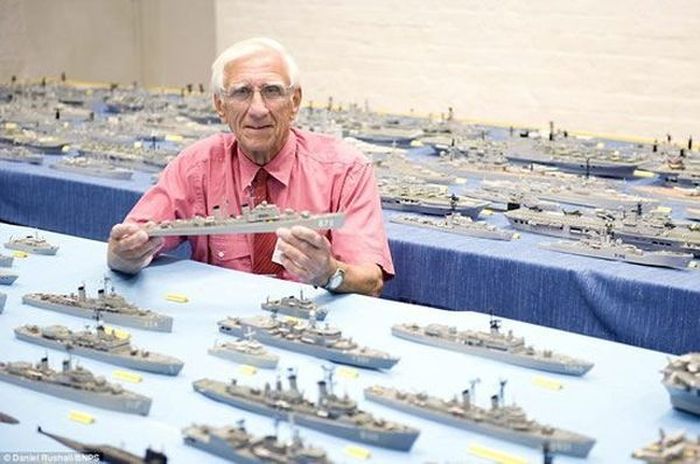 The master modeler, from Brandford, Dorset, has created every ship built in the Royal Navy since 1945, as well as 60 other ships from the US navy and other impressive floating fortresses from 18 other nations. One of the largest ships in his collection is the famous USS Nimitz, the largest aircraft carrier in the world.
Throughout his career as a ship model builder, Phillip Waren created over 400 individual ships, as well as 1,200 airplane models that make his aircraft carriers look more real. The average ship in his collection is made using around 1,500 matchsticks and takes about a month to complete, but for his larger creations he used over 5,000 matchsticks and 200 wooden boxes. These took him about a year to complete. All in all, Phillip Waren used around 650,000 matchsticks, to create his entire fleet.
Although many museum curators told him his matchstick creations are worth serious money, Phillip Waren considers them invaluable, and has never once considered selling them. He decided not to ensure them either because he feels "the purpose of insurance is to replace things when you lose them. These can never be replaced".
Sadly, his collection isn't going to grow much bigger than it already is, not because Phillip Waren is getting to old, but because the wooden boxes used as packaging for the matches have been replace by cardboard ones, and his stockpile is running low.
Take a look at Mr. Waren's detailed collection and prepared to have your mind blown:
Posted by
andrew
,

August 31, 2010. Post has
0 comments
.
collection
collector
England
models
United Kingdom