vald777
it will be nice to have ability to add multiple catalogs (External #) for one stamp. Because there many different catalogs. For example:

Worldwide: Scott, Stanley Gibbons, Michel, Minkus.

Regional: Dallay (France and ex-colonies), Anfils (Spain), Brusden-White (Australia), Facit (Scandinavia), Fischer (Poland), ISC catalog (Brunei, Malaysia & Singapore), Ma (China), Sakura (Japan), Sassone (Italy), Yang (Hongkong), Yvert et Tellier (France), Zumstein (Switzerland & Europe)

Maybe more
Jim
Yes, same situation related to coins: Standard Catalog of World Coins aka "Krause catalog" are one of many catalogs. For example, I'm using also German "Welt Munzkatalog".

However, I know what developers will answer: use custom fields for this feature.

Isn't it?
Yes, the fast answer will be in usage of the
custom fields
. But here the question is more complex than it seems. We have only 5 custom fields per "standard" collectible. In our case it is stamp or Jim's coins. But there are much more than 5 fields here in list of catalogs for stamps. I'm not sure that they
all
are important for tracking in collection at once. Of course such information in these possible fields will be useful - but user should decide which 5.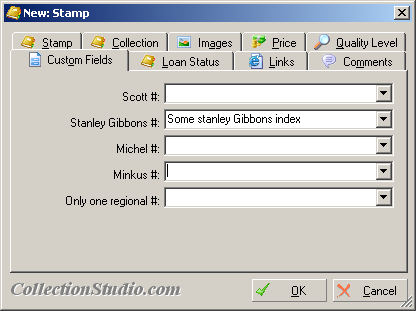 Another solution can be in usage of the custom collectible. With user defined collectible you can track unlimited number of fields per collectible. But disadvantage of this way will be that currently all these fields will be placed on one dialog for editing/viewing purpose. It may look terrible to scroll every time to get required info...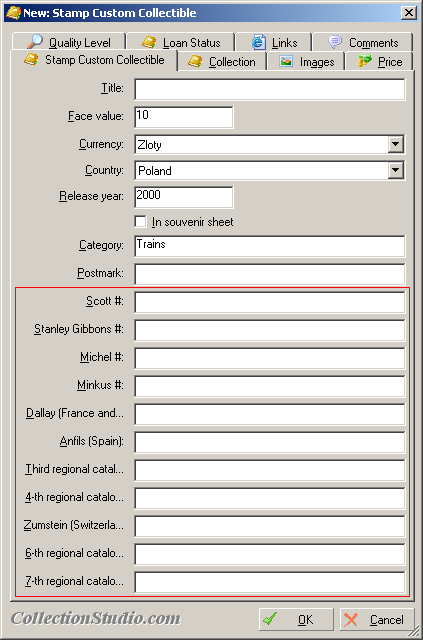 Yes, we need a mechanism to group custom collectible fields. But at current step of the custom collectible development we can't guarantee that division of user defined fields on several tabs (groups) will be done soon. So, the final decision should be made only by user. Of course later (when this feature will be done), there will be no difference in usability for user according selected by him way.
What about me, I'll prefer custom collectible with tracking of all possible fields in spite of how many they are. Information is a first and main part of any collection!