Catalin
One small remark though: in case of coins collections (perhaps other collections too, just didn't check them all), when accessing a specific country, one can display the list of coins from that specific country, with additional information such as (just took Poland as example): "5 Grosh, Poland (1967)" (see also your screeshot named "Statistics Europe Countries with opened list of coins from Poland&quot.

In case of custom collections, there is only the index # displayed. It might be nice if one can also see some of the custom fields in here, but letting the user decide which ones.
This feature is already implemented in CS

You can use it right now!
For all collectible types we have special property to display complete title of the collectible - Template, which can be accessed in the Collection Option window, "General" Tab page: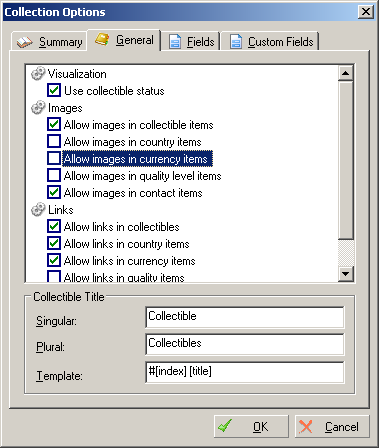 For coins, the default value is:
#[index] [nominal] [currency], [country] ([year])
That's why we have the following string of the collectible displayed in the list:
"5 Grosh, Poland (1967)"
This template value is used in several parts of CS to display items:
- Various item listing (such as our "Coins from Poland" list);
- In main bar when you select the item;
- In Search tool: you can specify exactly "5 Grosh, Poland (1967)" and you will get an exact match as a result.
- etc.
I guess, many users don't know much about this feature...
For custom collectibles, you can also use this variable to expand information of the collectible. Just use your XML-tag name of your collectible fields as template fields, braced with square braces. Currently, all template names should be in lower case.
For example, if you have a field "City", CollectionStudio will automatically create for this field following properties:
1. Title: "City" - will be displayed in the "Edit" window;
2. XML-tag: "City" - will be used in export/import etc;
3. SQL-field: "CS_City" - will be used only in SQL export.
You can change them as you wish:
1. Title: "Nearest City";
2. XML-tag: "City_Tag";
3. SQL-field: "CS_CITY_NAME".
According that the default "template" for custom collectible is "#[index] [title]", you can add information about city using its xml-tag in the "template" field:
#[index] [title], [city_tag]
For all type of collectible, you can use following standard fields (I hope meaning is understandable from their names): [index], [duplicates], [comments], [externalindex], [storage], [donator], [status], [quality], [quality_comments], [quality_mark], [country], [country_comments], [country_nationalbank], [country_nationalbankurl], [year], [currency], [currency_comments], [currency_nameorigin], [created], [income], [price], [realprice], [buy_comments]. For complete list of available fields, check our online help: Template Fields.